Documentary and Concert Recording for TV and DVD (Deutsche Grammophon)
Lang Lang – Carnegie Hall Debut – Concert: 112′ – Documentaries: 53′ + 43′ + 28′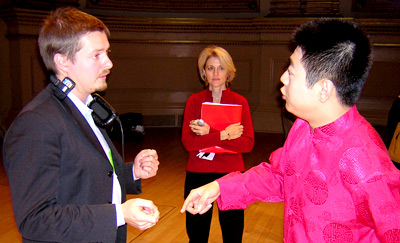 Throughout its long and rich history New York's Carnegie Hall and great pianism have been synonymous. One looks back, for instance, on Arthur Rubinstein's 1961 ten-recital marathon, Rudolf Serkin's televised 75th birthday recital or Vladimir Horowitz's historic comeback in 1965 after more than twelve years of absence from the concert hall. Lang Lang's Carnegie Hall debut on 7 November 2003 seems to be an event of similar importance. Although Lang Lang had barely celebrated his 21st birthday at the time of this concert, his portfolio already boasts an impressive array of high-profile, international appearances. Given Lang Lang's swift and steady ascent, one can easily imagine the inevitable pressure on this young artist to deliver the goods in the face of increased scrutiny from colleagues and critics.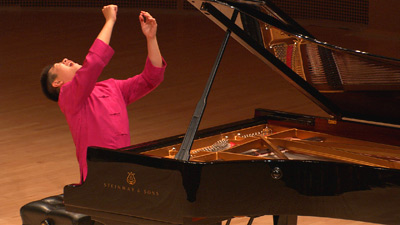 As it happens, he handles the limelight with confidence and consummate grace. We accompany the artist on her travels, which include stops at the Hong Kong Cultural Centre, the Berlin Philharmonie and the famous Abbey Road Studios in London. An intimate portrait emerges, of a cosmopolitan young woman who is able to fill well-known classical works with a new intensity that is also fascinating for young audiences. Lang Lang's choice of music and mode of presentation both asserted his own 21st-century sensibility and paid homage to his pianistic precedents and mentors. His opening selection, Schumann's "Abegg" Variations, figured in Yevgeny Kissin's 1990 Carnegie Hall debut,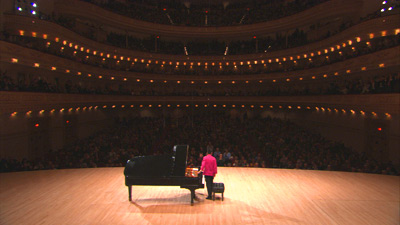 while Haydn's C major sonata appeared twice during Sviatoslav Richter's celebrated five-concert Carnegie debut run in 1960. Likewise, the encores are emblematic of Lang Lang's past, present and future. He brought out his father, Guo-ren Lang, a professional performer of the erhu, a traditional Chinese bowed instrument, for "Two Horses", an erhu/piano duet that bristles with spirited, affectionate interplay. Schumann's evergreen "Träumerei", of course, is forever associated with Vladimir Horowitz. In addition Lang Lang played Chopin's Nocturne op. 27,2 and Liszt's "Liebestraum " No. 3.
Duration: 112′ + 52′ + 43′ + 28′ (versions)
Format: 16:9 – Stereo – HDTV/PAL/NTSC
Director: Benedict Mirow
Producer: Manfred Frei
D.o.P.: Atul Rahul Jain
Camera Operators: Amadeus Hiller Florian Licht Björn Kurt
Camera Assistant: Emanuel Maximilian Schwermer
Technical Director: Florian Rettich
Balance Engineers Sound: Stephan Flock Wolf-Dieter Karwatky
Editor: Benedict Mirow Melanie Landa
Unit Production Manager Carnegie Hall: Peter Rosen Molly McBride
Unit Production Manager LOFT: Michael Sandforth
Production Assistant NIGHTFROG: Felicitas Heydenreich
Conceptual Adviser: Fridemann Leipold